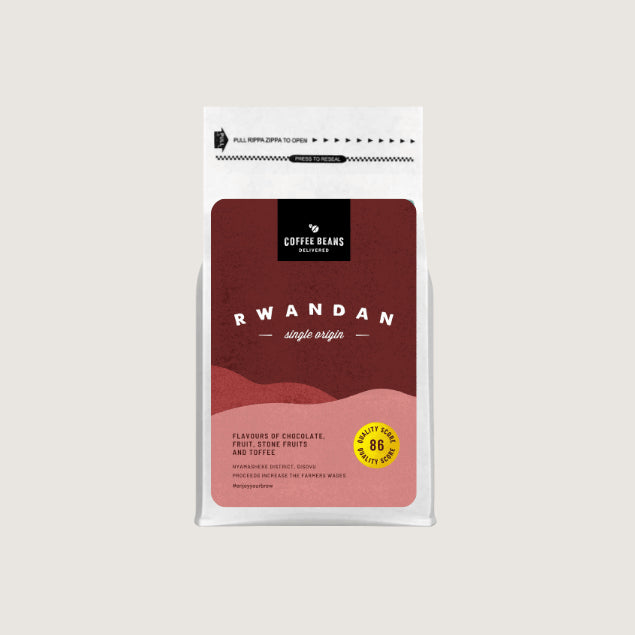 Rwandan Single Origin Coffee
In stock
Pickup available at 4 Patricks Rd
Usually ready in 24 hours
Rwandan Single Origin Coffee
250g / Whole beans
4 Patricks Rd
Pickup available, usually ready in 24 hours
4 Patricks Rd
Arana Hills QLD 4055
Australia
Tasting notes
Rwandan Single Origin Coffee
With a slightly deeper body than the Nicaraguan coffee, the Rwandan coffee is still one of the best single origins for milk-based coffees. Although, don't let that put you off if you prefer black coffees because this coffee is great in everything!



Coffee varieties
Red Bourbon

Karenge - 1550 MASL
About the farm
These Rwandan coffee beans are extraordinary in milk-based coffees and in black coffees. They produce unique flavours of vanilla, spice and chocolate to give your mouth a full-bodied coffee experience.

These delicious coffee beans come from three washing stations in the region of Gisovu, North-East Rwanda. Gisovu coffee is a very special coffee harvested from three regions in Rwanda: Kilimbi, Gisheke and Rugali which all feed into Nymasheke. The region has rich volcanic soil which is fantastic for the coffee trees and the high altitude (1550-1800MASL) creates the perfect climate for growing coffee trees slowly which allows for more complex sugars to form in the seed. This high grown method is referred to as SHG (Strictly High Grown) and it gives such an intensely rich sweetness and bright acidity that is highly desirable.

This coffee is perfectly processed as naturals (meaning they dry the coffee cherries out on raised sun-beds for 20-30 days), slowly turning them every 4 hours during the day to ensure that they don't over ferment, but allowing the complex sugars to seep into the seeds and give a heavy almost boozy essence to the coffee taste.

One of the areas that produce coffee for the brothers is Gisheke. The washing station is nestled amongst the rolling hills near the River Ruhwa and the only way in and out is by boat. So, if you're lucky enough, you might see a cow herd getting his or her cows across the river - by swimming!

The coffee offering from Rwanda is great black and white with toffee and stone fruit flavours with hints of floral and a milk chocolate finish.
Great tasting coffee. Exactly as advertised.
Great taste, easy to dial in!
Fantastic balanced flavour and a really easy bean to dial in on the grinder/espresso machine!
Rwandan Single Origin Coffee
I've tried most of the single origin coffees from Coffee Beans Delivered, these Rwandan beans are by far my favorite, beautiful chocolate and toffee flavor's and the aroma is amazing, highly recommend these beans.
Fantastic service
Item I ordered was not available. I received a call apologising and discussing alternate options which was addressed immediately. Really professional and courteous service. Have ordered multiple times and will continue to buy exclusively from these guys
Rwandan Single Origin Coffee