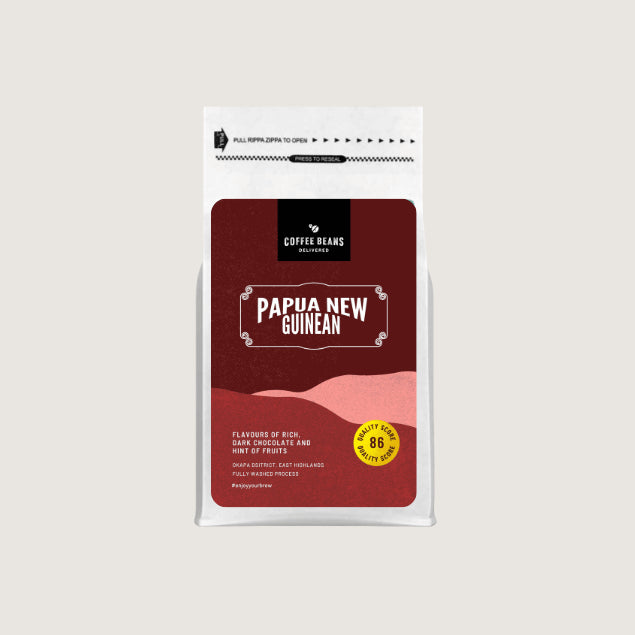 Papua New Guinean Single Origin Coffee
In stock
Pickup available at 4 Patricks Rd
Usually ready in 24 hours
Papua New Guinean Single Origin Coffee
500G / Whole Beans
4 Patricks Rd
Pickup available, usually ready in 24 hours
4 Patricks Rd
Arana Hills QLD 4055
Australia
Tasting notes
Papua New Guinean Single Origin Coffee
Dark Chocolate with fruity finish




Coffee varieties
Typica, Bourbon

Okapa - 2000
About the farm
These Papua New Guinean Single Origin coffee beans are grown on family run farms in Australia's neighbouring country. They have a naturally delicious sweet taste, with chocolate and fruity notes and are a perfect bean for both black and white coffee drinkers.

These wonderful Papua New Guinean Coffee beans are sourced from family owned and run microlots in the Okapa region of the Eastern Highlands. Grown at altitudes of 2000 metres in rich volcanic soils, these Bourbon varietal beans received around 2000mm of annual rain which encourages a year round harvest. This means we have a year round supply and consistent tasting bean.

The beans are sweet with well balanced depth, a full body and medium acidity. With tasting notes of fruit and chocolate, a hint of earthiness comes through in the finish, due to the soil in which they are grown. Enjoy them in a white or black coffee in any brewing style for a fantastic brew.
Fave goes with anything roast
I love a dark roast to get me going in the morning. But If I am going to have a coffee after midday this is my go to.
On trial
Have not had great results. Some bitterness. Have a good grinder - ECM - and machine and weigh each grinding to get consistency. Time the shot at 25 seconds. Taken your tip of adding a tiny touch of salt to take bitterness away. Have been making espresso coffees at home for many years so. Will keep trying but might try a Central American coffee next. I have had mixed experiences with New Guinea coffee and told it suffers from inconsistencies.
Outstanding coffee
I continue to enjoy this PNG coffee, which I understand is a Bourbon/Typica combination. It has a delightful floral aroma and a lovely flavour to match with notes of chocolate. Can highly recommend.
Not for the sweet tooths
Was a good quality coffee that was smooth and full-bodied. A friend of mine who I made it for at my house really enjoyed it, but she admittedly dislikes sweet coffee. I on the other hand, definitely have a sweet tooth. Service and delivery were great as always from Coffee Beans Delivered. Would recommend for those who like a darker roasted coffee.
Dark chocolate lovers
Dark chocolate is not really my favourite type of chocolate but as notes in this good quality coffee from Papua New Guinea I got to enjoy it with well texturised milk and a dash of sugar. I'll give it 5 stars as the grind smells wonderful and the crema is thick.