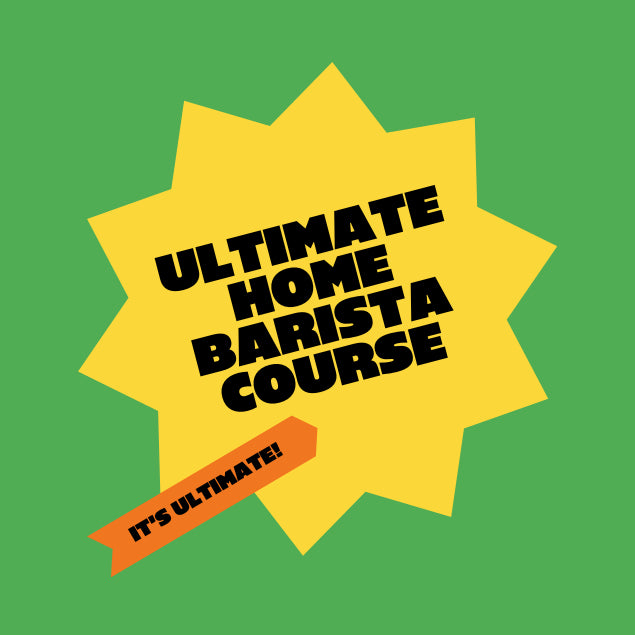 The Ultimate Home Barista Course
Stuffed with coffee tips, tricks and secrets along with solid step by step tutorials, you'll never need to rely on another barista again.
THIS COURSE IS FOR ANYONE AIMING TO MASTER THEIR HOME ESPRESSO SKILLS
With this course, you are guaranteed to improve your home barista skills, becoming an expert in coffee theory and practice, and leaving you with the confidence to take on the coffee industry. 
What you'll receive

A six-lesson series of in-depth information
Cheats sheets and small quizzes to help with retention
Access to an exclusive Facebook group 
Priority discounts and bonuses as we release more and more special materials
What's included in the lessons - 
History of coffee
Discover the origins of coffee and how it all began
How to extract the perfect espresso 
Creating the perfect foundation for a great coffee
How to steam silky milk 
Learn how to achieve perfect silky milk
The different types of coffee
A comprehensive guide of all types of coffees
Coffee Roast 
Understanding coffee quality, down to the roast 
Cupping and Quality Scores
Learn about cupping score and how it translates to the quality of your coffee
How to start pouring latte art
Latte art makes your coffee look better and we've got tricks to get you started
Best barista tools & Machine Maintenance and tips 
The best tools that will take your coffees to the next level.
ABOUT ME
My name is Ryd and I've been on the coffee scene for 20 years now and I've seen a lot of growth over that time. I started out owning my first cafe at NIDA in Sydney when I was 18, and with a genuine passion for the coffee industry, I've decided to extract my knowledge onto your screen for the first time! Sharing and passing on the knowledge I've gained over the years in the industry has become another passion. The coffee world has so much to learn still and with the consumer being kept in the dark, I thought it's time to shine the spotlight on it. 
SUPPORT  
Unlike other coffee courses, the support doesn't end when you finish the course. This course includes access to our exclusive Facebook support group where you can learn from other participants as well as receive answers from us on any questions you may have post-course. 
COFFEE IS 5X MORE COMPLEX THAN WINE!
Each step of the Course goes into making coffee broken down into 6 individual lessons to make sure you're getting the most information possible. 
What's in it for you?

Learn how to be the best barista that you can possibly be
print outs, cheat sheets and quick quizzes
Easy to follow tutorial videos, links to more information and deeper understanding
RELATED BLOG POSTS