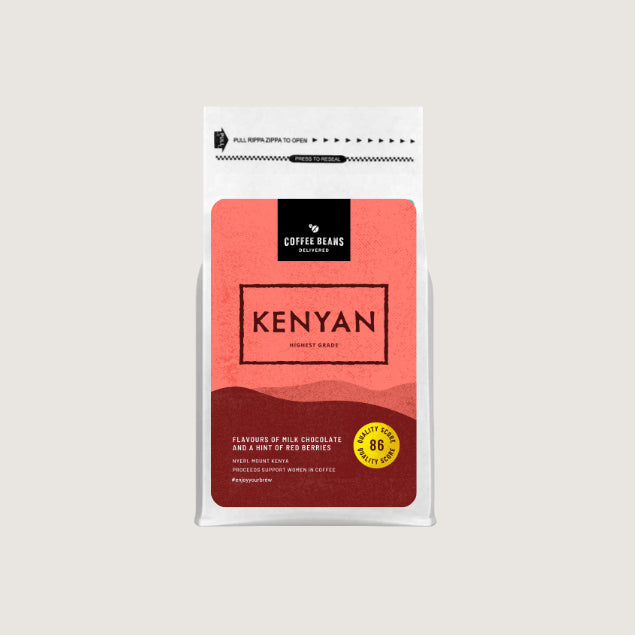 Kenyan Single Origin Coffee
Pickup currently unavailable at 4 Patricks Rd
Kenyan Single Origin Coffee
250g / Whole beans
4 Patricks Rd
Pickup currently unavailable
4 Patricks Rd
Arana Hills QLD 4055
Australia
Tasting notes
Kenyan Single Origin Coffee
Flavours of Milk Chocolate and a Hint of Berries.



Coffee varieties
Caturra , Bourbon , K7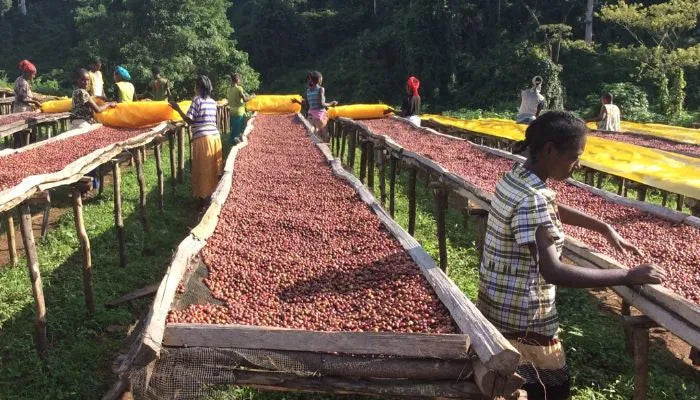 Mount Kenya - 1400
About the farm
Kenyan coffee beans are a great introduction to specialty coffees, they are remarkably stable in every type of extracting, meaning they will taste great every time. The best kind of bean to begin your journey.

High-quality beans that deliver delicious sweet, balanced, juicy black currant and red berry flavours. A truly special single origin.

This Kenyan is the result of an amazing harvest from Vava Coffee, a company run by a passionate leader and farmers working towards one goal: using coffee to empower communities.

The farm is located on the base of Mt Kenya and is run entirely by women! Each woman is responsible for 150 acres of farm and cares for the trees with a passion that surpasses that of a lot of farmers in Kenya. The mission that Vava Angwengye is heading towards is a vision to challenge the status quo and promote positive social disruption within the coffee industry with a high emphasis on elevating the opportunities for women and young girls within the community.
Kenyan review
Exquisite taste and rich aroma. For the adventurous, combine it with equal parts of Brazilian and add a few grains of salt. Not even a pinch. Tully amazing.
Kenyan Single Origin
Another fantastic option from CBD. I'm yet to have a bean I don't enjoy. This one is full of red berry flavours and was super easy to dial in which is always awesome. Reading the story of the woman only employed farm just adds to the awesomeness that Ryd and his team are focusing on. Great work 👍
Deluxe
I absolutely loved this coffee. The flavour was so unique. I could taste the berries and the chocolate which was very subtle and did not overtake the overall flavour of the coffee. I have a Breville Oracle machine, and it makes fantastic coffee & textured milk. So, I am able to adjust grind settings, etc for maximum effect. It is a little on the expensive side. Which I understand absolutely. So, it has to be a treat now and again. I would have no hesitation to recommend this coffee to friends. Thank you.
Kenyan Single Origin
Another really nice roast. African beans are rapidly becoming my favourite. Will buy again.