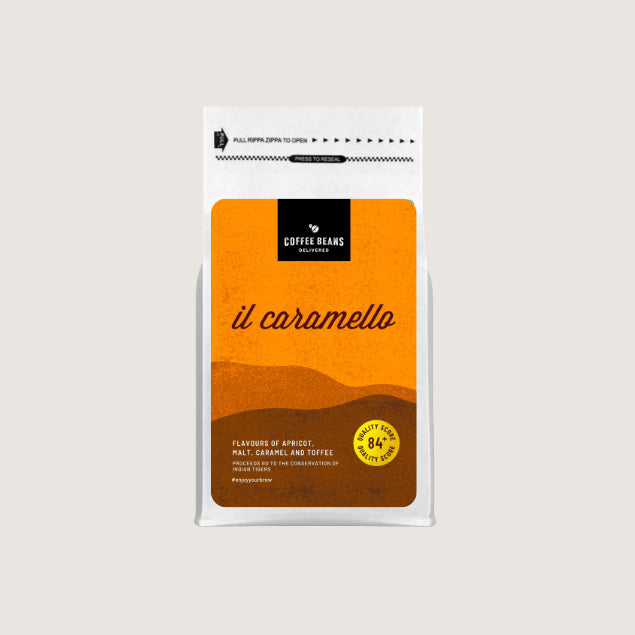 Il Caramello Coffee Blend
In stock
Pickup available at 4 Patricks Rd
Usually ready in 24 hours
Il Caramello Coffee Blend
250g / Whole beans
4 Patricks Rd
Pickup available, usually ready in 24 hours
4 Patricks Rd
Arana Hills QLD 4055
Australia
Tasting notes
Il Caramello Coffee Blend
Apricot, Toffee, with a sweet Caramel taste that lingers in your mouth.

Region
Central America & East Africa


Coffee varieties
Caturra, Cataui, Bourbon, K7

Central America & East Africa - Mixed
About the farm
This is the East meets Central blend. With roots from East Africa and Central America, this 5-bean blend was produced with the modern coffee drinker in mind. Combining the stone fruit flavours of the Central American highlands with some toffee and dark cocoa overtones, you'll note how well the floral and berry flavours of East African roots complement each other. The roasting process brings out the nuances in the flavours, and while this coffee is best in an espresso-based drink, try it in a filter or plunger and notice how the flavours are all still present.
Smooth with just the right amount of richness.
Great blend, would buy again. Just missing a bit of depth for me.
No more bought coffees
We often enjoy a morning coffee in one of our local cafes. Then we tried IICaramello Coffee. We decided after trying II Caramello Coffee that we actually had the best coffee in town.
Delicious
I can't rave enough about this place. The staff are lovely and kind. The coffee is 10/10. I have been ordering home delivery coffee beans for years from them. This coffee is my fav!!
Caramel all the way!
I'm not usually a caramel fan but the family likes a sweeter brew. To my surprise I thought this blend was sensational too!
Il Caramello Coffee Blend