Colombian Single Origin Coffee
In stock
Pickup available at 4 Patricks Rd
Usually ready in 24 hours
Colombian Single Origin Coffee
250G / Whole Beans
4 Patricks Rd
Pickup available, usually ready in 24 hours
4 Patricks Rd
Arana Hills QLD 4055
Australia
Tasting notes
Colombian Single Origin Coffee
Flavours of Maple and Warm Spice



Coffee varieties
Yellow & Red Bourbon, Caturra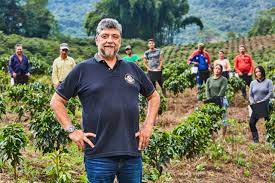 Valle Del Cauca - 1000-1800 MASL
About the farm

Blanca Correa and Juan Herrera began Finca La Esperanza farm over 90 years ago and together with their 14 children and successive generations, have created a reputation as being one of the largest specialty coffee farms in the region!

Finca La Esperanza is a beautiful coffee farm located high up on the mountains of Caicedonia, Valle De Cauca in Colombia. It spans a huge 23 hectares and reaches an altitude of 1760 MASL which helps with the production of sweet sugars in the coffee cherries. This specific sugary development of the cherries is noticeable in the cup as Maple Syrup.

out of this world
bought so I can compare it to my favs which are Guatemalan, PNG and the Brazilian single origin. Turns out I have my new best.
This coffee really sticks out and this is hard call as the rest my favs are great. All the right flavors are there.
Ground aroma and crema
Even my wife who doesn't drink coffee anymore loves the aroma of these coffee beans freshly ground. The crema is thick so I know already I'm going to enjoy this brew
COLOMBIAN SINGLE ORIGIN
One notch down in robustness from the Brazilian. Chocolate and caramel undertones. Enjoyed with a hint of Kahlua in it.
Colombian
Pretty good with milk nice and strong. Didn't like it black though
Colombian Single Origin Coffee